FXOpen UK Journal
Journal status:

live


FXOpen UK

joined in

|

not yet
Investor protection
Fund protection
UK Financial Services Compensation Scheme (FSCS)
Broker type
STP, DMA, ECN pricing
LPs quality
Tier-1 Banks, Tier-2 PoPs, ECNs, other
LPs names
Bank of America, Barclays, CRNX, Citibank, Deutsche Bank, Dresdner, Goldman Sachs, Hotspot, JPMorgan, LavaFX, Morgan Stanley, RBS, SG Paris, Standard Chartered, UBS
Commission
0 $/lotRT
3 $/lotRT
Volume
Unlimited
Unlimited
Scalping
Unlimited
Unlimited
Deposit methods
Bank Wire, Credit Card, Debit Card, WebMoney, Trustly
Base currency
USD, EUR, GBP
Inactivity fee
after 6 months
Is FXOpen UK safe?
Investor protection: UK Financial Services Compensation Scheme (FSCS)
Regulation: FCA UK
Registration: FCA UK
Publicly traded: no
Segregated account: yes
Guaranteed Stop Loss: yes
Negative Balance Protection: yes
Is FXOpen UK trusted?
Information transparency: sufficient

★★★

Customer service: not so helpful

★★

FXOpen UK website: highly detailed, updated

★★★★★

FXOpen UK popularity (by visitor count): top visited

★★★★★
How FXOpen UK works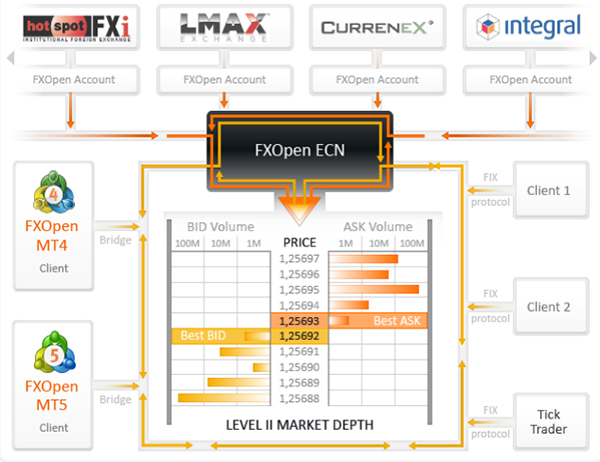 FXOpen UK website: www.fxopen.com/en-gb/ (UK-based)
FXOpen website: www.fxopen.com/en-uk/ (Nevis-based)
Sites will have different trading conditions & account types.

True ECN Model
All accounts at FXOpen UK are ECN or STP accounts and use the ECN model. The ECN model gives traders access to the Interbank market where the counterparty to your trade is a liquidity provider such as a bank, fund, or another trader. There is no intervention from FXOpen, no dealing desk and no requotes.

ECN accounts are suitable for all types of trading due to its fast execution and deep liquidity. This is especially useful for scalping, high frequency and automated trading. The ECN Model uses Market Execution, which means that your order will be filled in the interbank market but the execution price may differ from the price you requested upon placing the order.
https://www.fxopen.com/en-gb/why-us/
14.PRICES
14.1 We set the Price for all Margined Trades at our complete discretion.

12.CONFLICTS OF INTEREST AND MATERIAL INTERESTS
We, or our Associates, may have an interest or relationship which conflicts with your interest or our duties to you.
42.1FXOL will periodically hedge its liability to you by opening similar positions with other institutions.
https://www.fxopen.com/en-gb/policy/ (FXOL_Terms_v1.2.pdf )
3.1 Execution Venues
The Company has elected to appoint FXOpen LP Limitedfxopenprime.com as it's ECN environment provider to whom all orders will be transmitted for execution. The Company has selected this ECN environment based on the technology they use to obtain the best possible outcome for your order. The aggregator derives its prices for Spot FX from multiple liquidity providers in the wholesale market.
Although the Company will transmit Client orders for execution, contractually the Company remains the sole counterparty to the Clients' trades and any execution of orders is done in the Company's name, therefore the Company is the sole Execution Venue for the execution of Client orders.
Trade and Order Execution Policy v1.1.pdf