⭐ Forex Broker Search & Comparison Wizard
The BEST Forex broker comparison tool is found here!
The BEST Forex broker comparison tool is found here!
It is called the Forex Broker Search Wizard.
The Forex Brokers Search Wizard is the ultimate answer to common questions like:
"What is the best Forex broker?",
"What broker do you recommend for trading in my country?",
"Which broker offers ECN?",
"What brokers offer Cent accounts? Cryptos? Scalping?", etc.


Most Broker Search platforms today are not flexible enough for traders to perform extensive search.
While everyone agrees that "Nobody knows better than a trader him/herself what he/she wants".
Forex Brokers Search Tutorial
Let's perform Forex Brokers Search and Comparison in live mode:
1. Click on the Forex Brokers Search link to launch the Wizard:
It is located on the left side of the Homepage:

2. "Forex Brokers Search Wizard" How To?
You'll quickly discover that there are so many options to perform Forex Broker Search.
Briefly going over the 8 main categories:
Quick Start – great for you first quick search to get familiar with the tool
Broker Profile
Account types
Technology
Funding
Markets
Promotions & Extras
Feedback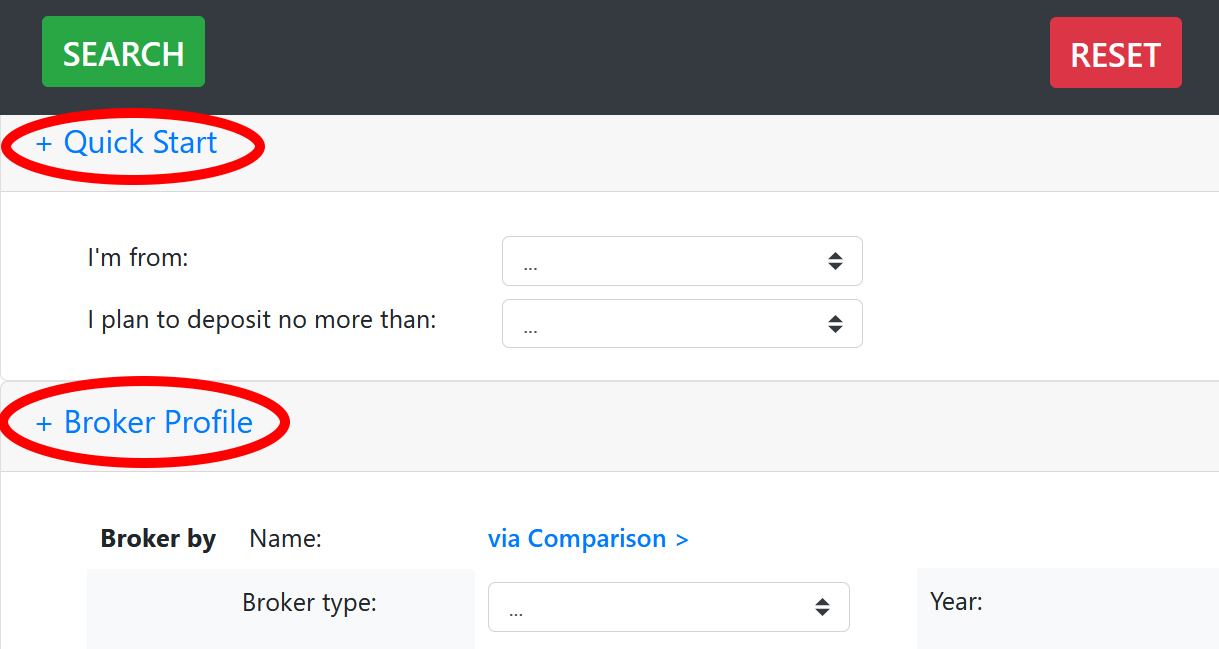 Each category expands into a number of smaller ones, and each comes with a drop-down menu of filters relevant to your specific Forex broker search.
Once all desired parameters/features for your best Forex broker have been selected, simply click on the SEARCH button to get the list of matching Forex brokers. It's that easy!
(Tip: to start a new Search sometimes it's easier to press RESET button instead of cleaning old parameters/options manually).
Forex Brokers Search LIVE Example
Let's learn how the Forex Brokers Search Wizard works by using a Live Example:
James is a trader living in Australia who wants to find a suitable Forex broker. James is willing to risk from $200 USD to $500 USD, and, although he knows a bit about Forex, he prefers quick trading (occasional scalping), and would also like to get some trading signals. He is also very concerned about funds safety, thus a regulated broker is on his preference list.
His quick steps are:
1. Open "Forex Broker Search Wizard"
2. Go to the "Quick Start" and use both filters:
- I'm from: "Australia",
- I plan to deposit no more than: "$500"
3. Click "Search"

The Quick Search results will likely return way too many positive results.
Thus further refining will be required.

Therefore James moves to the Detailed Search as follows:

Step 1. Use the filters "Clients welcome from" and "Regulation" from the "Broker profile" section:

In the same manner, choose "Australia" in the "Clients Welcome from", and add "Yes" for "Regulation" to aid with funds safety concerns.
Step 2. Use the filter "Minimum deposit" found on the "Account types" section. Choose: "$0 - $500" from the drop-down menu.

Step 3. Filter Scalping: "Yes, unlimited", also found under "Account types".
If this option is chosen, then it's 100% guaranteed that scalping will not be frown upon by the Forex Brokers.
(Should we choose a simple "Yes" option, then, although uncommon, there sometimes will be Forex brokers whose scalping policies were not transparent enough and/or might have changed).


This Search combo would be sufficient to attempt another SEARCH

Looks good!
Further, James could filter out more brokers leaving only those who offer "Bonuses & Rebates" or "Market analysis & signals" or both.

Finally, James might be curious about broker's feedback by Forex Brokers List Editors.
Forex Brokers Search Wizard offers a filter called "Information transparency" which is relevant to the overall level of information transparency encountered by Editors, including transparency of Terms and Conditions and their adequacy to the terms promoted elsewhere on the brokers' own websites.
Choose "High" for best transparency, or "Sufficient" for minor flaws.

Now, James clicks SEARCH button again.


The result is perfect!
Now James have a short & manageable list of Forex brokers that he can further Compare or contact directly in order find the Best Forex Broker for his needs!
We hope you enjoyed our Live Example and now ready to embark on the Broker Search of Your Own!

Copyright © Forex Brokers List