FXOpen Journal
Journal status:

live


FXOpen

joined in

|

not yet
Registration
Financialcommission.org
Investor protection
Fund protection
Financialcommission.org
Broker type
MM, STP, DMA, ECN pricing
Dealing book
A+B hybrid book, A-book
LPs quality
Tier-1 Banks, Tier-2 PoPs, ECNs, other
LPs names
Bank of America, Barclays, CRNX, Citibank, Deutsche Bank, Dresdner, Goldman Sachs, Hotspot, JPMorgan, LavaFX, Morgan Stanley, RBS, SG Paris, Standard Chartered, UBS
Commission
0 $/lotRT
3 $/lotRT
Volume
Unlimited
Unlimited
Scalping
Unlimited
Unlimited
Deposit methods
Bank Wire, Credit Card, Debit Card, EPay, WebMoney, QIWI, Perfect Money, Yandex.Money, FasaPay, IntellectMoney, Local Transfer Malaysia, Local Transfer Thailand, Local Transfer Vietnam, Local Transfer Indonesia, Paypaid, Alfa-Bank, China UnionPay, Airtm, AstroPay
Base currency
USD, EUR, GBP, CHF, JPY, AUD, CAD, RUB, SGD, XAU, BTC, ETC, BTC, LTC
Inactivity fee
after 6 months
Is FXOpen safe?
Investor protection: Financialcommission.org
Regulation: not regulated
Registration: Financialcommission.org
Publicly traded: no
Segregated account: yes
Guaranteed Stop Loss: yes
Negative Balance Protection: yes
Is FXOpen trusted?
Information transparency: sufficient

★★★

Customer service: ...
FXOpen website: highly detailed, updated

★★★★★

FXOpen popularity (by visitor count): top visited

★★★★★
How FXOpen works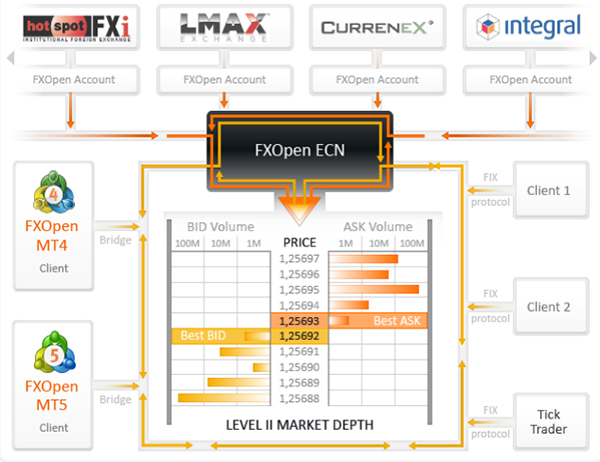 FXOpen UK website: www.fxopen.com/en-gb/ (UK-based)
FXOpen website: www.fxopen.com/en-uk/ (Nevis-based)
Sites will have different trading conditions & account types.

FXOpen business model
FXOpen clients receive real-time quotes from the industry's largest liquidity providers. The list of our LPs include Dresdner, SG Paris, Standard Chartered, Barclays Capital, Bank of America, CRNX, JPMorgan, Morgan Stanley, Deutsche Bank AG, RBS, CITI, UBS, HOTSPOT INST, GOLDMAN and LavaFX.

Terms (ECN accounts)
FXOpen executes all trading orders subject to the available liquidity. FXOpen will provide execution through the FXOpen ECN/STP trading system.

FXOpen holds the multi-currency exposure as such corresponds to all the Customer's transactions.

The execution of the Customer's trading order by FXOpen are based on the conditions provided by a number of Counterparties involved which may apply different trading conditions, e.g. prices, commissions, overnights, leverages etc. FXOpen shall not be obliged to apply the conditions received by the Counterparties to each particular transaction of the Customer.

FXOpen may refuse to facilitate or proceed with any transactions or refuse access to the FXOpen ECN/ STP trading system at FXOpen sole discretion, as a result of any of the following:
.. Absence of liquidity.

Most types of Expert Advisors are generally allowed. The Customer agrees and acknowledges that FXOpen may in FXOpen's sole discretion disable the Customer's ability to use Expert Advisors, without any prior notice.

Execution of the Customer's Requests and Instructions
2.2. The Company executes trading orders of the Customers at the ECN/STP trading system by a technology that automatically matches buy and sell orders of incoming prices generated by all counterparties including Customers and Liquidity Providers, i.e. all Customers participate in ECN/STP trading system as price-takers as well as price-givers.
(Customer Agreement (ECN): CA_ECN_Nevis_TTECN.pdf)
https://www.fxopen.com/en/policy#
FXOpen was the first broker ever to introduce a true MT ECN trading platform. ECN aggregator processes all the requests from ECN liquidity providers and gives the best real-time prices.
https://fxopen.support/Knowledgebase/Article/View/474/872/ecn
FXOpen ECN enables the matching of client orders against the orders of other FXOpen marketplace participants e.g. other FXOpen clients, both individual and institutional, and liquidity providers - banks, fx exchanges, other brokers. There is no conflict of interest between the clients and the broker, as the broker act only as the intermediary.

FXOpen ECN advantages:
•By aggregating the liqudity of multiple LPs and feeding the aggregated raw price further to the clients, FXOpen is able to offer tighter spreads and better execution that otherwise available to retail clients.
•The spread is floating and depends on market conditions.
•Market execution with no last look is available to all FXOpen ECN participants.
•Transparent and equal trading conditions for all clients.

Terms Micro and Standard accounts
Standard and Micro accounts - Dealing desk.

FXOpen will engage in FX contracts transactions with Customer in accordancewith Customer's oral, written or electronic instructions. FXOpen will act as the counter-party to theCustomer in all such transactions. Unless instructed by the Customer to the contrary in writing,FXOpen is authorized to execute all Orders with such counterparty banks, sophisticatedinstitutions, registered participants or FXOpen itself, as FXOpen deems appropriate.
https://www.fxopen.com/en/policy#
(Customer Agreement (MM):CA_MM_Nevis.pdf)
News trading and scalping are allowed with limitations:
Scalping: 1) Stop Loss, Take Profit and Pending Orders must be placed 50 pips or more away from the current price; 2) Most of your trades must be held open for at least several minutes.

News trading: Placing, modifying or deleting pending Buy Stop and Sell Stop orders (including opposite Stop orders) is not permitted during the Freeze Time (immediately before, during and some time after news release)
https://fxopen.support/Knowledgebase/Article/View/473/872/micro
3.1 Execution Venues
The Company has elected to appoint FXOpen LP Limited https://fxopenprime.com/ as it's ECN environment provider to whom all orders will be transmitted for execution. The Company has selected this ECN environment based on the technology they use to obtain the best possible outcome for your order. The aggregator derives its prices for Spot FX from multiple liquidity providers in the wholesale market. Although the Company will transmit Client orders for execution, contractually the Company remains the sole counterparty to the Clients' trades and any execution of orders is done in the Company's name, therefore the Company is the sole Execution Venue for the execution of Client orders.
Trade and Order Execution Policy v1.1.pdf
C
omments
A
dd new comment...